Katie, perhaps this should be the concept of your next fragrance.
Have you any thoughts, Laurent?
Nobi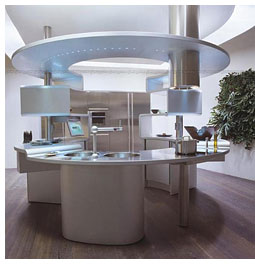 Like many young Japanese men in the '80s I loved Ferrari. I still remember the the mind-blowing, shivering sensation I had when I saw one of the few Ferrari F40s landed in Japan. The body designed by Pininfarina was a sculptural masterpiece, and after two decades since it's debut I still marvel at the elegant and uncanny design. Ferrari to many is not Ferrari without Pininfarina badge on the body, and Ferrari F40 was the culmination of their many years of collaboration.
Enzo Ferrari passed away the year I moved to New York, and that pretty much ended my Ferrari worship. So did my admiration to Pininfarina design which had always been tied to Ferrari. I didn't expect anything more from Ferrari since the F40 was Enzo's last masterpiece just as much as the Rondanini Pietà was for Michelangelo.
When I was looking through an architecture magazine recently an image of a somehow futuristic kitchen caught my eyes. It was the ad of a kitchen appliance maker, and at the corner of the page I found a small logo which I hadn't seen for many years, a logo which had always been on the body of a Ferrari. I could feel a grin spread across my face, a feeling similar to an unexpected reunion with an old classmate.
There's something about this kitchen that made me feel it was for men. I am sure my partner Veronique wouldn't like it but am happy to see a design for a kitchen that makes a Viking or Wolf look old fashioned and boring.
http://www.snaidero.com/
ーピニンファリーナのデザイインしたキッチンについて思い巡らしたことー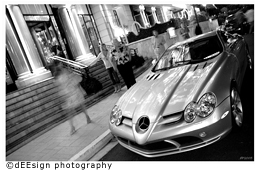 The unusual looking rear of the car in front of us caught Veronique's attention when we were driving back from Marseille to Toulouse a few weeks ago. I couldn't figure out what kind of car it was till she said "It has a Mercedes emblem and is written McLaren." Not to say that I'm too unfashionable to recognize an exotic car, but I haven't cared about cars since I left my enthusiasm for them behind in Tokyo a long time ago.
McLaren is a racing team based in England, best known as a Formula One constructor. The name brought back memories of the time when Honda engines had completely dominated the F1 scene season after season. I then realized that McLaren had now been using Mercedes engines for some time, and the stunning car in front of us was the byproduct of F1 Grands Prix. As the glorious rear end moved further away from us I was guessing the price – to be around 350 thousand dollars (the actual price is almost half a million!).
After we had lost sight of the glamorous car with a Swiss license plate I asked Veronique an idle question. "Is there a perfume you can compare to that car or Ferrari F40?" I just had in my mind a perfume like a prestigious car with daring style and performance that had combined the most advanced technologies and materials. Veronique's reply was instant, "No, I don't think so." Since there wasn't anything for me to do in the passenger seat I kept thinking about it… maybe it was an irrelevant comparison… what has a perfume got to do with the word performance if it's not about higher sales figures with lower manufacturing costs?
I guess we would have to wait for something revolutionary to happen in the fragrance industry before we could catch a sniff of the Mercedes SLR McLaren of perfume, and that's only going to happen if one of the major fragrance houses starts to "Think Different."
I hope it will happen one day.